Human Resources Manager
Other | København | Full-time
We ARE KEYLANE
Keylane is a European supplier of modern, customer-centric, SaaS software to the insurance and pension industry. Our in-depth knowledge and expertise allows us to help clients transform the way they run their day to day technology and operations. By implementing state of the art solutions, we help companies to reduce costs, deliver new and innovative products to market fast and increase customer satisfaction.

Therefore we offer best-in-class SaaS hosting, with 24/7 availability of an expert team and in a fully controlled and secured private cloud environment.

We are experts, who are cooperative and eager to do the best for our clients. Keylane drives industry standards by developing best practices in standardized migrations, implementations, and comprehensive project management. We have our own data migration competence center, enabling us to be completely in control of execution of complex legacy migrations. Keylane has gone through rapid growth due to a "Buy & Build strategy", which includes 10 acquisitions since 2012. The upcoming years Keylane will keep its focus on growth and market leadership, as well as on corporate integration.

Headquartered in Utrecht in the Netherlands, Keylane employs over 800 people and delivers services to over 130 insurance and pension companies in the Netherlands, Belgium, Germany, Denmark, Norway and Sweden.
HUMAN RESOURCE MANAGER - NORDIC

As our new Human Resource Manager (based in Denmark, Copenhagen) you'll provide Keylane extensive HR knowledge, skills and of course the right brainpower to lead the Danish HR team and initiate, develop, execute and maintain key HR projects and initiatives for our dynamic organization in Scandinavia.

You will be responsible for the HR related operations in Denmark, Norway and Sweden. Because you are a seasoned HR professional you are capable to lead & contribute to companywide International projects. You will report to our VP Human Resources based at our Headquarters in Utrecht, the Netherlands.


Acting as a human resource business partner in the Nordics you'll work from a strategic group HR perspective, being operational responsible, and ensuring, consistency in; Talent Acquisition, Compensation & Benefits, Talent Management, L&D and HR Operations, supporting the leadership to carry out their tasks.

The entire HR team for the Nordics, based in Copenhagen, consists of three people. Having the right knowledge and best practices, the Nordics HR team is in close contact with the HR teams at the Headquarters in Utrecht ( Team Talent Acquisition, Team Learning & Development and Team HR Operations). The HR team Nordics works with multiple stakeholders in the three countries (Local Management Team Denmark and Country Director in Norway & Sweden) to execute HR strategies and initiatives with a local flavor.

This role has an interesting mix of aligning the overall strategy with clear autonomy to operate and execute them in the region. Working in a matrix structure, reporting to our VP HR in The Netherlands and working closely with the Country Lead for Denmark, being the largest unit in the Nordics with 160 Fte will be a challenging opportunity & dynamic work environment.

Therefore your key areas & responsibilities are:
GENERAL
Lead the HR capability and be an ambassador for the people focus of our business
Support and lead a continuous change agenda, advising on people decisions to drive effectiveness
Work with business leads to ensure effective and fair management of employees throughout the organization
Provide advice and support to managers and employees on HR policies and procedures
Focus on the continuous improvement of HR processes and procedures
Prepare HR data for management information (attrition, illness, training and development etc.) and help business leads act upon them
TALENT ACQUISITION
Understand the business resourcing needs and translates these into resourcing & workforce plans
Ensuring a high quality of new hires & talents, adhering to the global TA standards and processes
TALENT MANAGEMENT
Execute talent reviews, retention and succession planning initiatives and provide support to business leads
Support and advise Senior Management on their talent development initiatives
COMPENSATION & BENEFITS
Responsible for yearly salary review process
Participate in negotiations with the financial union
Keeping the Keylane set of Compensation & Benefits on the right level
LEARNING & DEVELOPMENT
Develop, manage and execute the annual trainings and development plans and L&D budget
Execute the best onboarding experience
PERFORMANCE MANAGEMENT
Coordinate the Performance Management Cycle, responsible for the local performance appraisal process, trainings and feedback loop across Keylane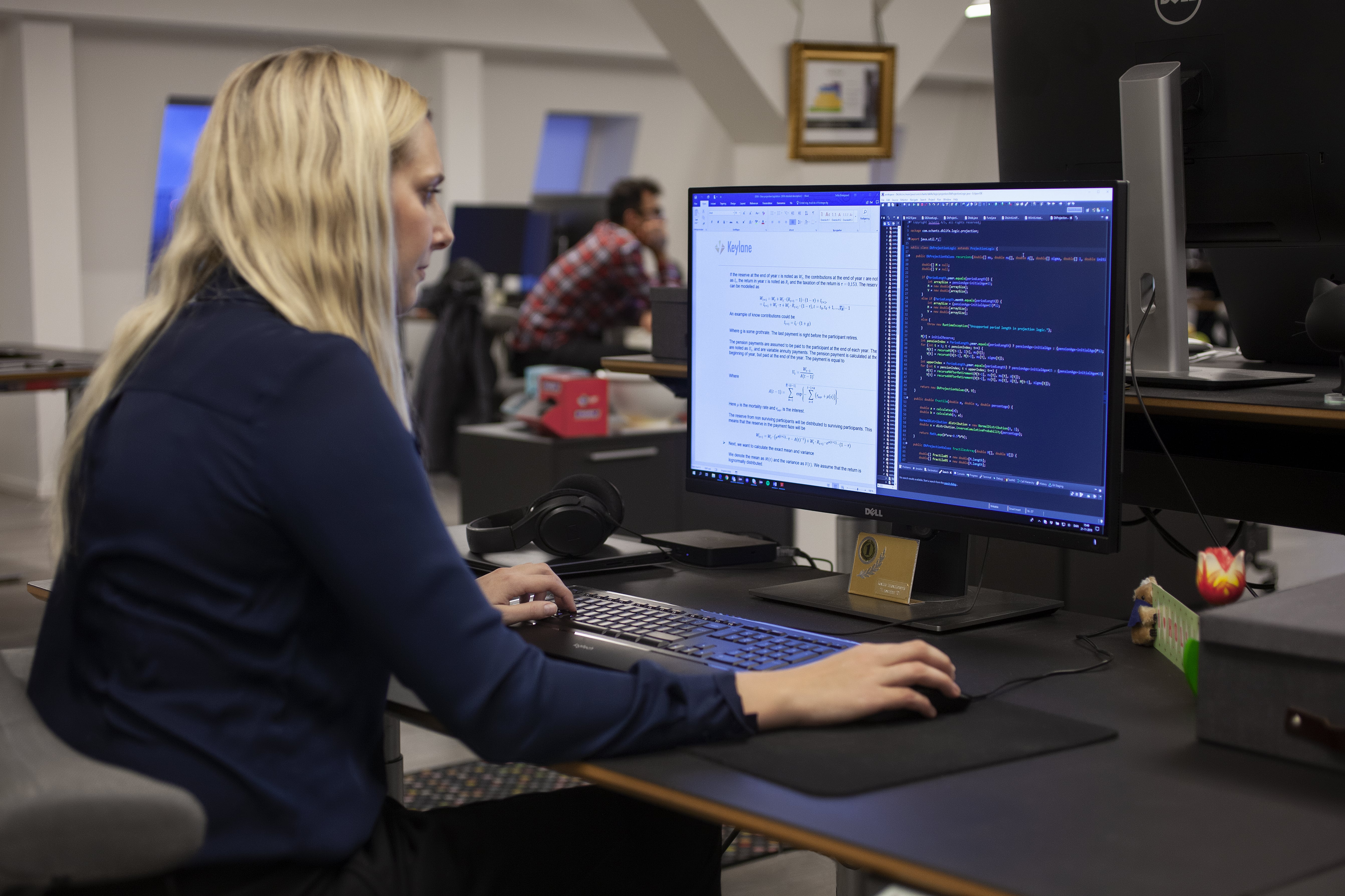 YOUR KNOWLEDGE, SKILLS & EXPERTISE
You have at least ten years' experience as a senior HR professional, preferably in a commercial company in the professional, tech savvy environment
You are able to understand the business and bring the right, added value, HR initiatives
You are an all-round, seasoned HR professional, with up-to-date knowledge of HR methodologies, policies, processes and tools
You are a solid business partner with a keen eye for stakeholder management
You are an excellent communicator, and present findings clearly to support the management decision making process in both Danish & English (verbal & written on a native level)
You are a fast thinking, dynamic personality being comfortable in a fast-paced environment, used to managing ambiguity
You have experience in driving change, innovation and integration processes
You are a true self-starter. Therefore you can describe yourself as being pro-active and independent, being able to balance hands-on Day-to-Day task and long-term projects
You embody the right work ethics, discretion and confidentiality

THIS JOB OFFERS YOU
A challenging role and a great opportunity to use all your capabilities to influence and help shape this role. You will be a part of a growing, professional and international organization Become a part of a company with a very pleasant entrepreneurial vibe.

KEY BENEFITS
We ask a lot from you. But we also offer you a lot. We offer a job in a tech savvy organization that wants to conquer Europe. You are going to be a part of a great, high energetic team that is in the middle of a big transition. You get the chance to develop as a professional, in a crucial role. Moreover, you can make an impact and contribute to the further professionalization of our company and of course a competitive package and secondary employment benefits.


ENGAGE & CONNECT
If you have any further questions regarding this position please reach out to David Hulsenbek, Vice President Human Resources, via mailto: david.hulsenbek@keylane.com or apply now.